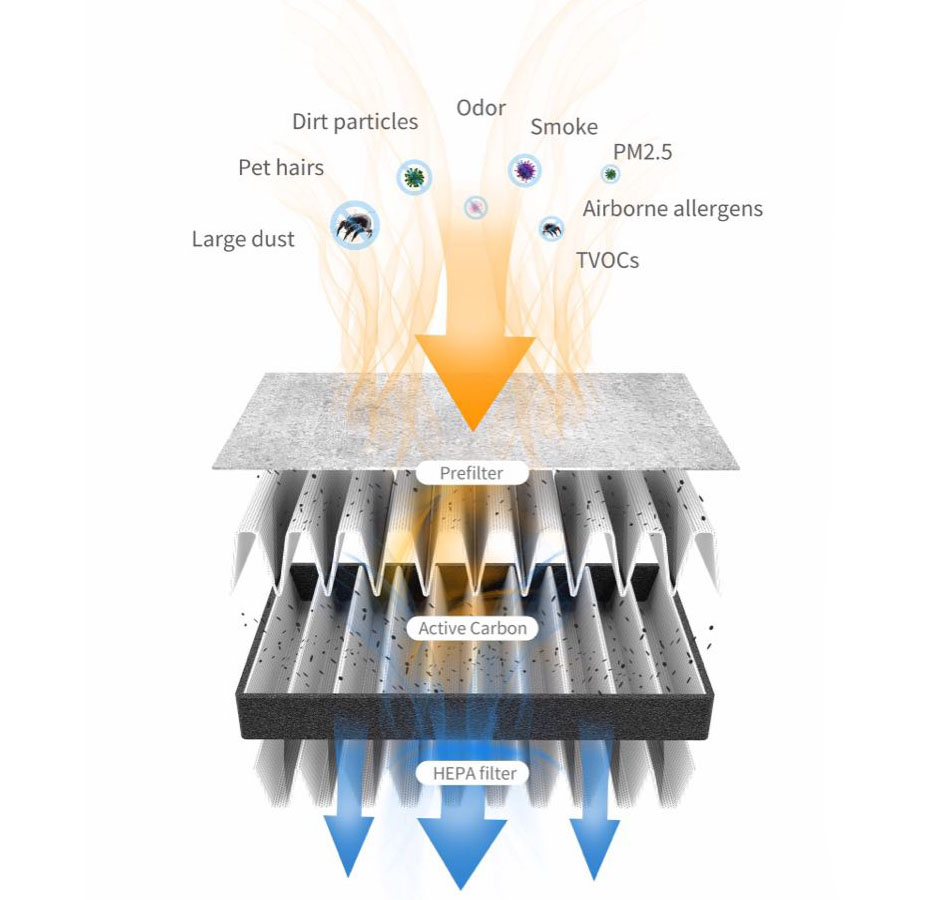 The Pre filter is designed to capture large dirt and debris.

The HEPA Filter (H13 rating). It is an ultra fine filter that can trap airborne particles as small as 0.3 microns −300 times smaller than the diameter of a human hair.

Activated Carbon. The carbon filter efficiently adsorbs foul odor and protects you from harmful chemicals and gases present in every moving vehicle.

UVC Germicidal Lamp. Using UVC lamp in circulation air creates a deadly effect on micro-organisms such as pathogens, viruses and molds.
Direct exposure to UVC Radiation will inactivate the DNA and RNA of Microorganisms, rendering them "sterile", which in biological terms, results in a "dead" microorganism. Treating air with Ultraviolet light will eliminate DNA-based airborne contaminants (bacteria, viruses, mold spores, yeast, protozoa), and provide much healthier air to breathe.

Negative Ion: 5 million ions cu.cm. Ozein Mobile immediately goes to work in cleaning the indoor air from road exhaust and particles and other allergens by using Negative Ionic purification.
What's in the box

Ozein Mobile UV Series Air-Purifier
Instruction Manual
Warranty Card
Power Cable
Belt Strap
Car Charger
Specifications
360 degrees airflow
Compatible USB port 5V & 12V DC
Free Belt strap for car seat mounting
USB cigarette adaptor
Durable Slip mat
Touch Control
UVC: 1 watt
Unit size: 175x 175x72 mm
Unit Net Weight: 576grams
Power consumption: 4 watts
Area Capacity: 8-15 sqm

Unboxing the UV Series
<